Crane Services in Farmington
When you need large, hazardous trees removed from your property not just any tree service will do. Some arborists might offer to handle these jobs but lack adequate experience with technical rigging; Farmington crane-assisted tree removal is what's needed for those who have access or ownership over an unsafe site!
Nye's Tree Service is the best choice for any large, crane-assisted tree removal job. They have years of experience and will take care to do it right with all their skillset at hand – which means you can confidently turn your issue over Nye's way!
For those times when you need quick response and competitive rates, Nye's Tree Service is your go-to company. With a 36 ton crane with an extendable boom tip height of 103 feet (30 meters), our mobile cranes can be deployed anywhere in Northern Utah.

The versatility of a mobile boom truck makes Nye's Crane Service ideal for most construction sites and situations. Our crane services include, but are not limited too:
Residential and commercial construction

Shed relocations

HVAC Rooftop units

Steel building construction

Home construction

And more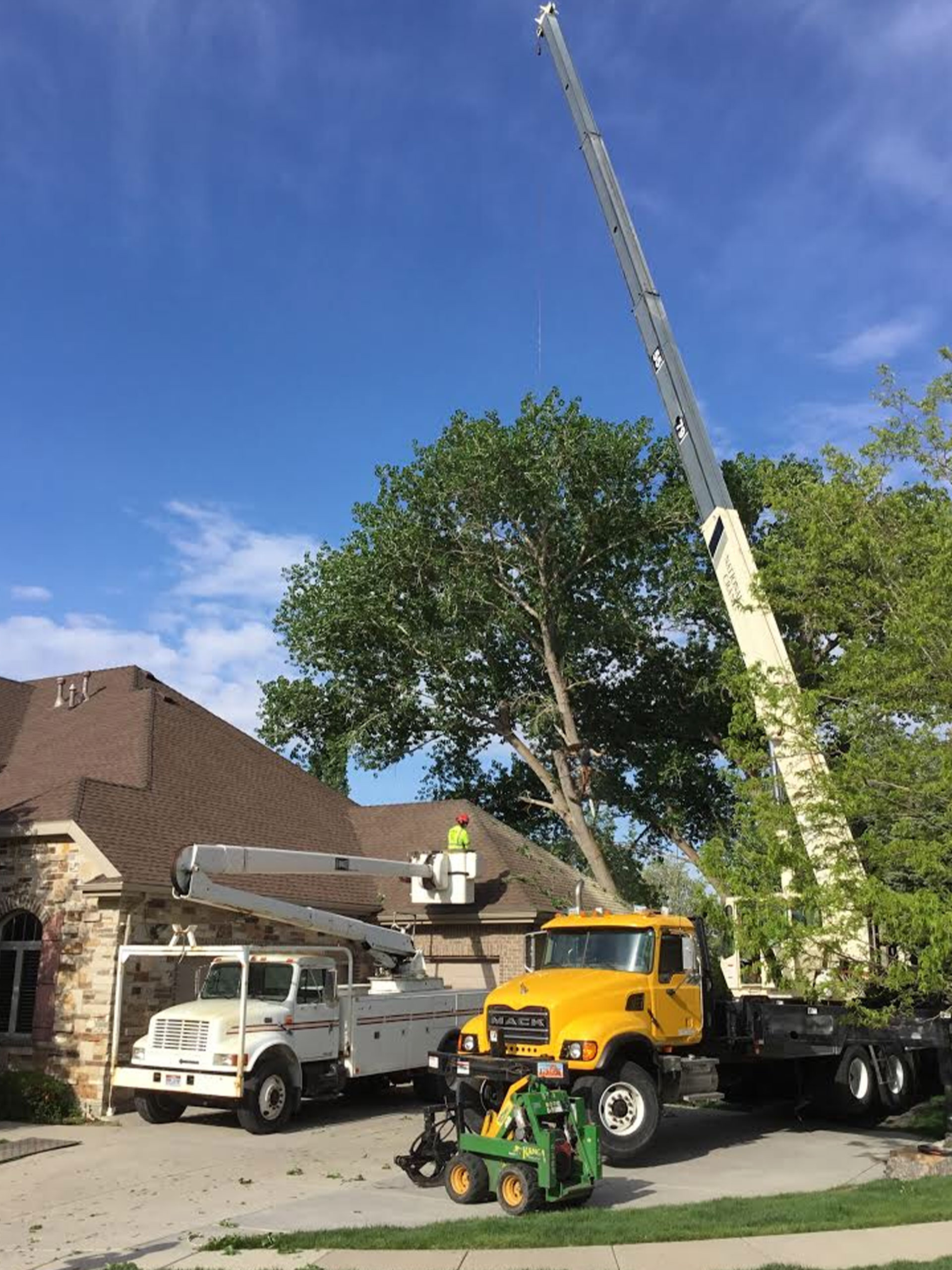 At Nye's we are ISA Certified arborists, our experience can offer you the products and resources needed for successful tree and plant health care. We offer emergency services, fast free estimates and are proud of our 5 star reputation for more than 20 years serving Utah residents and commercial customers.

"Nye's Tree Service was very professional and prompt. They did a great job removing our tree and grinding the stump. I would recommend them and I have recommend them to my friends. I would definitely use their services again. Thank you"
— Curt Waiters
[/db_pb_slide]
"I submitted a request online on Saturday. They called on Monday, came to see the project on Tuesday, and did the job the next day. Work looked great - we were very happy. Cost less than I expected. Paying was easy. I knew they knew there business when he identified the tree right off. Will use Nye's again."
- John D.
[/db_pb_slide]
Nye's Tree Service is outstanding. They gave me a reasonable quote, were responsive, on time, addressed all of my concerns, and provided great quality work. I'll definitely be using them in the future and would recommend them to everyone.
- Kelsey M.
[/db_pb_slide]
Loved the quick and clean service we rendered. Nice employees and very respectful. Excellent price on removing 3 huge messy pine trees.
- Karen E.
[/db_pb_slide]
They were fast, effective, and had the best price I could find! They got the job done well and cleaned up after they were gone! If you're looking for someone great you want to call these guys for sure!
- Tavery L.
[/db_pb_slide]
[/db_pb_slider]